Creature Features
KTVU 1971-1984
** While doing some research for the BABC Newsletter and looking into local brewing history. I got lost for about an hour looking up some old childhood memories. The following is a snapshot of some of my finest memories of growing up in the Bay Area and having parents that didn't mind if I stayed up late, as long as I shut off the TV. You may not have shared the same theatrical interests as I, but I feel the nostalgia of my youth may bring back some of your own TV memories. Allow me to indulge into the past of great Bay Area and American television for a little while............... Mike W.
---------------------------------------------------------------------------------------------------
"Don't stay up late, it's not worth it," Bob Wilkins warned as he leaned back in his yellow rocking chair, smoke wafting from his big cigar. But monster movie fans in Northern California stayed up with him every Saturday night anyway. Creature Features made it's debut on Channel 2 (KTVU) in 1971, and was an immediate success with it's grade- Z horror films and Bob's dry sense of humor. His cool, low-key deadpan helped him rise above it all, elevating films like The Navy Vs. The Night Monsters as well.
Creature Features is, with Dialing For Dollars, the Bay Area's best-known local movie show.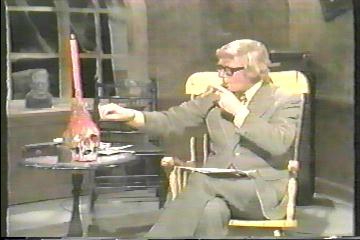 Bob with his big stogie, rocking chair and ever campy set
Bob once remarked, "We kicked off this show with Horror of the Party Beach, and we knew we had our work cut out for us that night . . . and it seems it's been that way every Saturday night."
Actually, many of the films were pretty good, and his guests were even better: Ray Harryhausen, Christopher Lee, William Shatner, Leonard Nimoy, John Landis, William Marshall, Forest J Ackerman and . . . well, too many to list. You never knew who (or what) you'd see next on Creature Features. There was an endless parade of the weird: People who claimed to be witches and martians, inventors who built robots, a woman who knitted a sweater for King Kong, local filmmakers who showed bizzare TV commercial take-offs. Once, Bob received a phone call from a man claiming to be a vampire. When he asked if he could be a guest, Bob said "Sure, can you come down to the studio at two o'clock tomorrow afternoon?" When the caller said yes, he could, Bob replied, "If you're a vampire, how is it you can be there at 2 p.m.?" There was a pause, then 'click'. The vampire hung up.
Bob interviewing Christopher Lee
The show quickly expanded to a double feature format and Bob even joined the Channel 2 eleven o'clock news as the weatherman. All of this while he continued his weekly show in Sacramento (on KXTL Channel 40). After two years though, he decided that reporting the weather wasn't for him, and Pat (Dialing for Dollars) McCormick took over. We know that Bob inspired viewers (one of them being George Lucas) to get into sci-fi films. Who knows? Maybe his stint as the weatherman helped inspire Lloyd Lindsay Young.
Creature Features rapidly became a hit, and a second movie was added to the show before the end of the year. KCRA-TV quickly dropped Wilkins in the Sacramento market, but KTXL-TV 40 just as quickly picked him up for a hosted horror movie, where he outlasted his run at Creature Features.
Bob's presence was unique for a horror host at the time. Although the Creature Features set was festooned with skulls and cobwebs, Wilkins didn't play a horror character. He wore a suit and tie and dark-rimmed glasses. He had a slightly bookish, softspoken quality, which never seemed to waver no matter how scathing his jabs at the films became.
Bob specialized in presenting bargain basement films of the worst sort. In fact, he deliberately advised his viewers not to watch because the movies were of such low quality.
Wilkins recalls: "I knew that if I told people to watch this film, they wouldn't."
"I told them not to watch it," he continues. "I had a TV Guide and I told them what was on the other stations at the time."
In 1977, Bob went incognito for Captain Cosmic, a half hour kid's show specializing in Japanese sci-fi . "I was disguised," Bob said, "I had a cape on and a helmet that covered my face, so you couldn't tell who I was. But of course, by the voice people knew it was me. The younger kids didn't know who it was because they couldn't stay up late at night and watch the horror movies." With his trusty sidekick, Robot 2T2, Captain Cosmic made the galaxy safe for kids every afternoon at 4:30. After 2 years, Bob Wilkins grew tired of the show, and he was tired of Creature Features as well.
Keep in mind, Bob not only wrote and produced the shows, he also lined up the guests, answered the fan mail, and made public appearances. So in 1978, when the demands of doing two shows in Oakland and one in Sacramento got to be too much, Bob left Channel 2. (But really, how many times can you suffer through a double bill of Billy the Kid Vs. Dracula and Jesse James Meets Frankentein's Daughter anyway?) Bob's replacement on Creature Features was John Stanley, frequent guest.and author of "The Creature Feature Movie Guide"
Luckily, for Sacramento viewers Bob continued his Saturday night show on Channel 40 until 1982.
Wilkins had a droll sense of humor that wafted through the smoke of his ever-present cigar. He claimed his films were purchased at garage sales. His introductions were usually the highlight of the entire show:
* Weird Women. "This is a story about witchcraft, the occult, mysticism, price-fixing, tire rotation... I think you'll like it".
* Target Earth. It's the story of robots from Venus. Of course, Switzerland is known for watches, Venus has always been known for their robots.
* "Remember a couple of years ago they were saying nice soft music makes your houseplants grow? All of mine died within 30 minutes of the start of this movie."
* After a commercial break: "Okay, let's get back to the movie. It does not get any better."
* At the end of a movie: "Well that's it. I told you it was bad."
John Stanley didn't have Bob's dry wit, but was a true Horror movie buff
John Stanley had the unenviable task of following the very popular Bob Wilkins after Wilkins retired from Creature Features. Despite what must have been a certain amount of pressure, he managed to make the show his own for another 5 years after taking over. (He would no doubt have been on longer, had the costs of leasing movies to air not skyrocketed with the growth of pay cable channels, forcing local channels to cut back on movie shows in the 80s.)
Stanley was well qualified to host horror movies. He had guest hosted for Wilkins from time to time, and so came to the full-time job well-practiced. He was on the staff of The San Franciso Chronicle's "Datebook" entertainment section, writing reviews and doing movie-related interviews and feature articles. Stanley retained Wilkins' approach of playing it straight; he never added vampire fangs or a cape to the act.
Stanley was also a horror movie fan in real life - quite unlike Wilkins, who was never reluctant to express his lack of interest in the movies themselves. His approach was decidedly more reverent than Wilkins. He clearly loved the better films he was able to screen, and was great at providing background information and appraisals of them from a fan's standpoint. He maintained a scholar's attitude to the films, and his host segments were a bit like a broadcast fanzine in that way - the fanzines being one of the few places at the time where anyone wrote seriously about the genre.
When it came to the poorer films, Stanley could be a bit unforgiving. I've always liked the trashier movies as much as the better ones, so I felt a bit out of synch with Stanley's taste with regard to the bottom-rung fare.
JOHN STANLEY'S LIST
OF THE FIVE BEST
SCI-FI MASTERPIECES
EVER RECORDED ON FILM
1. THE THING (FROM ANOTHER WORLD). Directed by Christian Nyby. (1951). Scientists isolated at a remote Arctic outpost encounter a creature from outer space that has crashed its flying saucer into an ice formation, and discover once its loose within their isolated station that its vegetable-based metabolish lives on human blood. James Arness played the Monster and Kenneth Tobey and Margaret Sheridan are among those fighting for their lives in the freezing-cold research station. Dimitri Tiomkin's score made effective use of the Theremin, and the realistic dialogue lends a sense of authenticity rarely encountered in a science-fiction movie. On video from RKO; Nostalgia Merchant; RCA/Columbia; VidAmerica; Goodtimes. On laser from Turner, Image, VidAmerica.
2. THE DAY THE EARTH STOOD STILL. Directed by Robert Wise (1951). A flying saucer lands in Washington DC and a humanoid alien named Klaatu (Michael Rennie) faces mankind in the company of a potentially destructive robot called Gort. Patricia Neal conveys fear on a most believable level in her scenes with Gort as she attempts to communicate a message that is the only thing that will save Earth from total destruction. (That message is: "Klaatu barada nikto." Never forget it.) This was the first film to suggest that mankind will have to conquer its destructive nature and control its atomic weapons if it ever wants to join the rest of the peace-loving Universe. On video and laser from 20th Century-Fox.
3. IT CAME FROM OUTER SPACE. Directed by Jack Arnold (1953). Originally released in 3-D, this thriller based on a Ray Bradbury story finds astronomer Richard Carlson and girlfriend Barbara Rush meeting hideously looking but benevolent aliens that have crashlanded in the Arizona desert, and need to take over human bodies in order to repair their damaged spacecraft. The desert atmosphere is eerie and the alien point-of-view is depicted through a special fisheye lens. On 2-D video and laser from MCA Universal.
4. FORBIDDEN PLANET. Directed by Fred McLeod Wilcox (1956). A spaceship crew captained by Leslie Nielsen and accompanied by a fascinating robot (known as Robby) land on a farflung world (Altair II) where scientist Walter Pidgeon and his beautiful daughter Anne Francis are the catalysts for the unleashing of a supermonster from the human id. The special effects were the best for their time, and the music by Louis and Bebe Barron was one of the first electronic scores. On video from MGM/UA and on laser from Voyager.
5. ALIEN. Directed by Ridley Scott (1979). This trend-setting mixture of horror and sci-fi in space depicts the crew of an intergalactic freighter being slaughtered one by one by the most hideous and diabolical, killing-machine monster ever visualized. Sigourney Weaver became the female "Rambo" of the time, establishing a new kind of rugged heroine who would return to two sequels. On video and laser from Fox.
JOHN STANLEY'S LIST
OF THE SEVEN BEST
HORROR MASTERPIECES
EVER RECORDED ON FILM
1. THE BRIDE OF FRANKENSTEIN (1936). Directed by James Whale. A bizarre mixture of the macabre, whimsical satire and thunderbolt Gothic horror with Boris Karloff recreating his infamous role as the Frankenstein Monster, first introduced in Universal's 1931 production of FRANKENSTEIN (also directed by Whale). On video and laser from MCA/Universal.
2. THE CREATURE FROM THE BLACK LAGOON (1953). Directed by Jack Arnold. The Gill-Man, the best and most realistic rubber-suit monster ever designed by Hollywood, stalked through this 3-D thriller that is a nonstop series of man-vs-beast battles, cat-and-mouse underwater excitement and ripping good murders--all accompanied by a wonderfully horrific music score by Henry Mancini and other top Universal-International composers of the 1950s. Julia Adams slips into a virginal white one-piece swimsuit to swim in the lagoon while the Creature swims just beneath her, matching her movement for movement in what is a sexually charged "Beauty and the Beast" ballet. Richard Carlson and Richard Denning are the rather bland heroes who vie for Ms Adams' affections when they aren't trying to speargun the primitive Gill-Man to death. On video from Goodtimes and MCA and laser from MCA.
3. THE INNOCENTS (1961). Directed by Jack Clayton. This adaptation of Henry James' novel "The Turn of the Screw" remains one of the most chilling and literate ghost tales everphotographed, with Deborah Kerr in an electrifying role as a prim governness in a lonely British manor house haunted by spirits. Does anyone out there on the Internet know if this has ever been put on home video or laser? If not, it should be. And if it is, please let me know so I can update.
4. PSYCHO (1960). Directed by Alfred Hitchcock. Robert Bloch's novel, a psychological study of a sexual pervert-murderer couched in the style of a horror thriller, served as a springboard for this black-and-white classic in which the main heroine Marian Crane (Janet Leigh) is murdered in a motel shower stall early in the film--a complete jolt to audiences of the period. Anthony Perkins' portrayal of Norman Bates remains one of the most frightening of the horror genre. On video and laser from MCA/Universal.
5. THE HAUNTING (1963). Directed by Robert Wise (1963). A psychologically disturbing and atmospheric version of Shirley Jackson's novel "The Haunting of Hill House" in which the ghostly phenomena is only suggested, never blatantly shown, proving that less is more. The miasma of this haunted house masterpiece will have your skin crawling. On video and laser from MGM/UA.
6. THE EXORCIST (1973). Directed by William Friedkin. This is the shocker that established new trends in visual ghastliness but which still maintained an intellectual attitude in studying good vs. evil, Heaven vs. Hell on an earthly level. It stuns you but also carries you away into the depths that good psychological horror plummets to too infrequently in the movies.
7. THE UNINVITED (1944). Directed by Lewis Allen. Those who saw this in the '40s, or discovered it on TV in the '50s, always remember it fondly as one of the few good haunted house movies. However, now that we have been carried to the heights of atmospheric/shock film making, one might accuse Paramount's adaptation of Dorothy Macardle's novel UNEASY FREEHOLD of being slow moving and talky. But anyone searching for old-fashioned story-telling values (such as fascinating characters, strong motivations, scintillating dialogue, a setting that serves as a metaphor for character, etc.) will find this demonstrative of haunted Holllywood at its best. Ray Milland and sister Ruth Hussey buy a mansion, Windward House, on the Cornish coast to be confronted with subtle hints of a haunting: wilted flowers, a weeping voice, a gust of wind on the stairs, a room turned ice cold, the smell of mamosa. Recommended for the fine script by Frank Partos and Dodie Smith, the gentlemanly direction of Allen, and the performances of Milland, Hussey, Gail Russell, Donald Crisp, Cornelia Otis Skinner and Alan Napier, the latter as the village doctor. On video and laser from MCA.
Worst Horror/Sci Fi Films - You'll love to hate them!! Laughably entertaining...
1. PLAN 9 FROM OUTER SPACE (1956). Directed by Ed Wood Jr. The all-time classic of superior ineptitude and remarkable bungling, featuring Bela Lugosi in outdoor footage in which he stands around doing nothing, is available from Sinister Cinema, Something Weird, Nostalgia Merchant, and others. Just browse around in the $2.89 Woolworth bins to find it. A laser, designed for those who want to know everything about this flick, was issued by Image.
2. THE CREEPING TERROR (1964). Directed by Art(less) Nelson. This is the one about an alien monster that looks like an elongated shag carpet and swallows entire humans through its gaping maw, even though it takes forever to move ten feet. The soundtrack, according to one urban legend, was lost in Lake Tahoe and the entire sound had to be dubbed. United, VCI and Rhino have dared to transfer it to videotape. Are you daring enough to seek it out?
3. THE GIANT CLAW (1957). Directed by Fred F. Sears.
A giant bird from space, resembling an overweight turkey buzzard and looking rather plucked, can only be stopped by a device called a "mu-meson projector." With long neck and bulging eyeballs, the thing will have all you bird-watchers rolling in the aisles. Director Sears, described as a part-time bird watcher, is said to have "winged it" during this strictly-for-the-bird production. It looks it. Movies Unlimited has issued this celluloid travesty on tape. Perhaps Columbia too.
4. FIRE MAIDENS FROM OUTER SPACE (1956). Directed by Cy Roth. Sexy lady dancers swing to the music of Borodin on a moon of Jupiter where they want to sacrifice astronaut Anthony Dexter to their black gods. Contact Cinemacabre for the videotape. Take Alka-Seltzer for indigestion.
5. ROBOT MONSTER (1953). Directed by Phil Tucker. Leading man George Nader (only one of six humans left on a zapped Earth) looks almost as mechanical as the extra in a gorilla suit who's supposed to be an invading alien. On the top of the suit is a fishbowl made up to resemble a space helmet. And the E.T. guy has a Bubble Machine (loaned to producer-director Tucker for the weekend by Lawrence Welk?) for a communications device. Ro-Man (or the guy in the suit) chases Claudia Barrett and Selena Royle all over Bronson Canyon. Yes, you must see it to believe that it really exists. If you don't see it, you won't believe that it exists. Sony dared to put it on tape, Rhino dared to issue a version in 3-D for party watching, and Image has a laser disc version for the richer intellectuals among you.
6. MESA OF LOST WOMEN. Directed by Herbert Tevos and Ron Osmond. Also known as LOST WOMEN and LOST WOMEN OF ZARPA, this travesty denigrates the talents of Jackie Coogan and Richard Travis while also depicting a race of "black widow women" who have been injected with a spider serum, and now lure men into their diabolical webs of death. Sinister Cinema offers it on videotape.
7. THE BEAST OF YUCCA FLATS (1961). Directed by Coleman Francis. Tor Johnson, a regular in grade-Z Ed Wood Jr. ineptitude classics in which he frequently tried to throttle Bela Lugosi, turns up here as the leading man, who is transmutated into a blobbering, maniacal killer after he's exposed to an atomic blast in the Arizona desert. A primer in how not to expose film inside a movie camera, BEAST is awful beyond human comprehension. This unwatchable hunkajunk is available from Sinister Cinema, Something Weird, Filmfax and Cinemacabre.
8. NIGHT OF BLOODY HORROR (1969). Directed by Joy N. Houck Jr. Sit through a few minutes of this Night of Cinematic Bungling and you'll realize why Gerald McRaney has spent millions trying to burn up the negative and protect his "major" reputation as a sitcom actor. Terrible title matches atrocious lighting, lousy acting and sleazy set design. On video from Paragon and King of Video.
Creature Features Fan Club Certificate
Lets'go way back!