Mike's House in Oregon
(providing it's pest report is good!) More picts coming....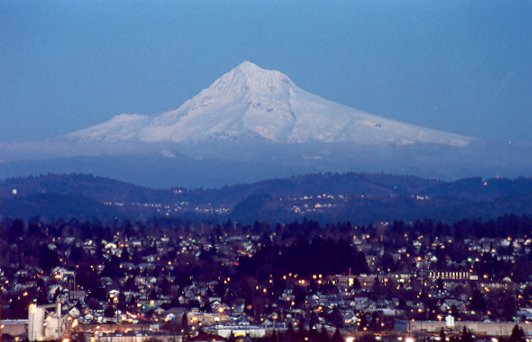 Mt. Hood looming over the Portland Skyline. No, this not a view from my house!! My house would located about 2 inches to the right off the picture and over the first hill..
House picture from the mls listings
Garage doors
Needs a little mowing, but this is landscaped half of the backyard. Around the corner to the left are steps that go to the front of the house lined with dozens of different roses. What the hell am I going to do with roses!!?? Although, Portland is the ROSE CITY.
Looking over back fence to Mt. Talbert Park. The park is a nature (open space) type park; No Facilities, camping or water. The are hiking trails. There is a 4 foot wide creek that runs through the park and about 50 yards from the back of my house.
From second floor deck looking over backyard and into park. Park surrounds 2 sides of house (Back and right side), only one real neighbor on left of front.
Hmmm. Although a little dark (picture wise), this is the full bath on the second floor. There's a sink on both sides of bath. Gee, now both my children can wash their hands at once……Hey, right!
Master Bath. Thank God there is a shower stall too. I couldn't bath in that artsy fartsy tub!
Master bath basins
View from master bedroom. Other houses and Mt. Talbert park. The park is 650 acres and encompasses the Mountain and isolates the 3 block area where the house is.
2 of the three bays of the garage. There is about 3 extra feet on each side of the garage and the bays are extra long so a work bench, plus walk way could be in front of cars.
Kitchen. Doors open because I was hoping to find a beer in it!! ;-}
Kitchen
View from Kitchen window. Below is part of the unlandscaped part of yard with a cyclone fenced dog kennel. My dog will never use it, so it's coming out!
master bedroom window. Big window, almost floor to ceiling. The master bedroom has a coffered ceiling which is kinda interesting. Curious to see if it has an attic!
View from second level staircase
Although hard to see, this is half of the basement. This is a 3 ft hallway that leads to a small 10x10 room semi finished. Behind is a storage room. Behind the wall to the right is unused 11 ft of space and behind the left wall is the backyard. Need a couple of windows and separate entrance. When done, I'll try to make a 8x14 storage area and 34 x 14 play/bar area……